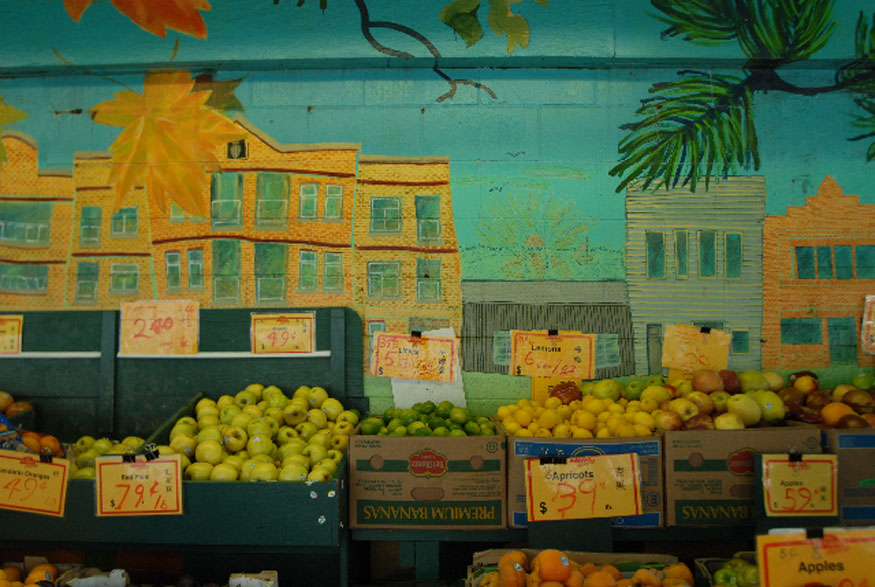 Artist: Cristina Peori Year: 2004 and 2007
Location: 300 Powell
Dimensions: Varies, see below
Best Viewed: Gore & Powell
A series of murals surrounding the Sunrise Market.
Folding Door
Date: 2007
On the door is a depiction of Japanese ornamental cherry blossoms against a background of the metal fence that was originally fabricated by old Mr. Jo (the owner). This is a depiction of the Powell street shopping experience and was commissioned by the Jo family.
Dimensions: H. 9 feet x L. 20 feet. Oil on metal.
Sunrise Market Upper Mural
Date: 2004
Best Viewed: From across the street. No access to upper mural.
The mural is a celebration of the Powell Street area. Included are an oriental dragon and phoenix, commemorating the area's Asian influence; a native moon mask commemorating the murdered women of the Downtown Eastside; a mariner's wheel commemorating the importance of port activity; and a collection of landmark buildings from Powell and Alexander Streets.
Dimensions: H. 25 ft x L. 120 ft
Sunrise Market Lower Mural
Date: 2004
The mural continues the celebration of the Powell Street area experience. It contains details such as the Komura building at 269 E. Powell St. with the adjacent diminutive buildings along Gore Street (now demolished) that reportedly housed the first Saki distillery in Canada. Next to this is the basement of York Hotel that had remnants of Japanese baths and an underground tunnel. Other details include equipment from Nye's Foundry, and decorative details from buildings in the area.
Dimensions: H.9 ft x L. 100 ft
Links: History of Sunrise Market