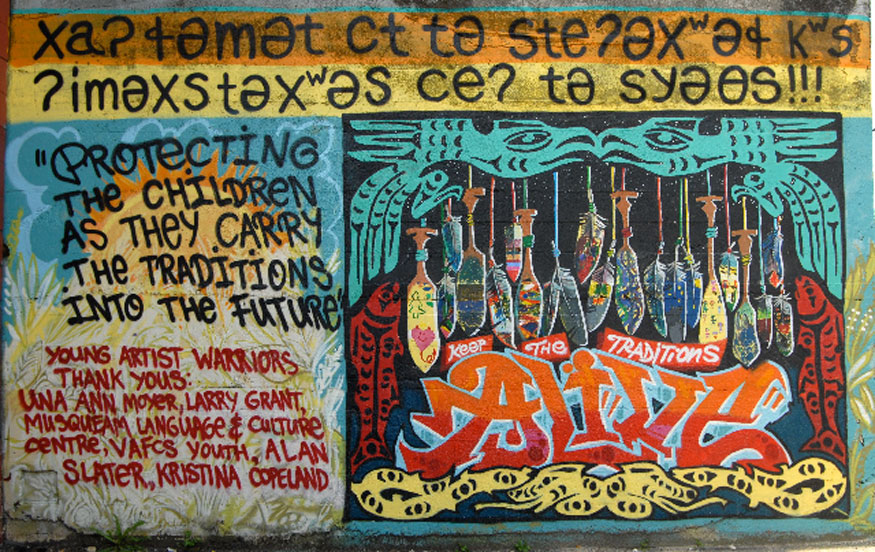 Artist: Jeska Slater & Mikeal Fraser & Young Artists Warriors
Year: 2011
Location: 843 East Hastings
Dimensions: H. 6 feet L. 12 feet
Best Viewed: In back alley behind cheese shop
The Young Artist Warriors Keep the Traditions Alive mural works to synthesize the old and the new. Musqueam syllabics and traditional imagery are juxtaposed with urban styled art and youth's original contributions. The saying reads: Protecting the children as they carry the traditions into the future. This synthesis speaks of traditional knowledge and the urban environment, and pulling positive aspects from both to help create a positive self-identity for Urban Aboriginal Youth.
Artistic Team Details:
Jeska Slater – Project facilitator, Designer, Lead Artist , Una Ann Moyer – Traditional Artist who donated the design of the border, Larry Grant – Traditional Musqueam Language Expert, Mikeal Fraser – Lead Artist, Urban Styled Art
Youth Participants: Claudette Antoine, Michael Antoine, Aeriana Antoine,
Nathanial Antoine, Michaela Barton, Brianna Bryant,Wilson Dixon, Fabian Hackett, Vaughn Howard, Kierstin Leeson, Rayann Longpre, Jazmyn Mallet, Donavan Mitchell, Zadah Mitchell, Unity Nelson, Myles Olson, Nathan Tallio, Malia Terry, Shae Terry, Jaiden Terry, Ian Tom
Partners: The Vancouver Aboriginal Friendship Centre Society, City of Vancouver – Great Beginnings Program
Comments:
"Painting murals is good because it helps build communities together!" (Claudette Antoine, Age 15,
Youth Participant)
"Painting the mural is a good thing because it shows people what the youth can accomplish." (Jazmyn Mallet, Age 8, Youth Participant)