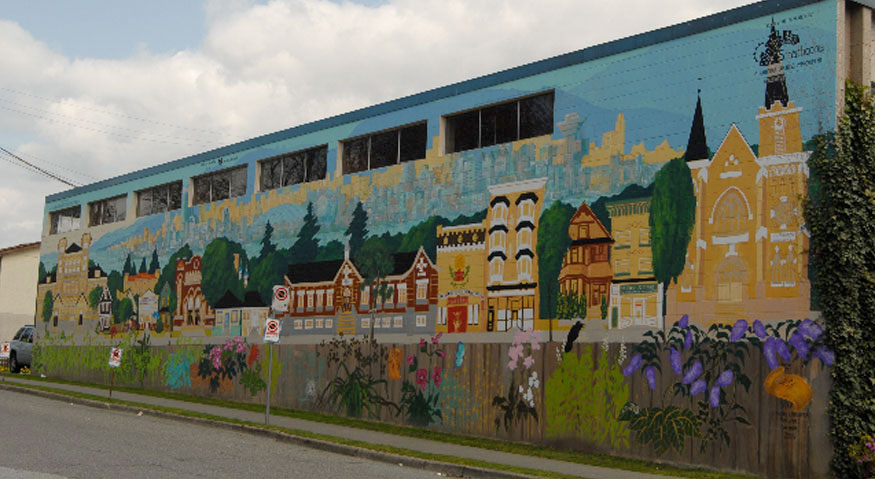 Artist:

Christina Peori



Year: 2006

Location: 1209 Adanac
Dimensions:

H. 25 feet L. 80 feet



Best Viewed: On Vernon Drive



The McGregor Mural highlights some of the schools, churches, community centres, stores, residences, flora and fauna of Strathcona against a background of the city that not only has stemmed from it, but which now threatens to encroach upon it. Acrylic on concrete block. Six persons were employed through Sandy MacKiegan and CETA.. Paint and elevation assistance were provided by the Vancouver Graffiti Mgmnt Program. Sponsorship was by the Strathcona Business Improvement Assn.
36. Gelato Mural

Artist:

Cristina Peori



Year: 2004

Location: Glen at Venables
Dimensions:

H. 20 feet L. 100 feet



Best Viewed: Corner of Glen & Venables



The Gelato Mural is a panorama of Strathcona in the late 1800's when False Creek extended as far as Clark Drive. Dominant is the first Lord Strathcona School. Featured are totem poles among the newly-cleared land, with a modern-day foreground of people which express the ethnic diversity of the city. lg approx. Acrylic on poured concrete. Five persons were employed thru Sandy MacKiergan and CETA COOP. Scaffolding, scissor lift, and paint were provided by Vancouver Graffiti Mgmnt. Sponsorship was by Strathcona Business Improvement Assn..