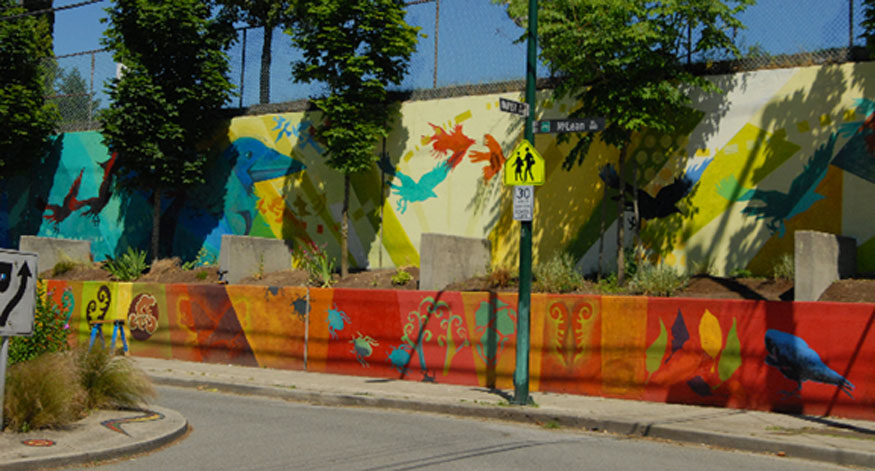 Artist Coordinator: Richard Tetrault
Artists: Claire Louise Brown , Jeff Gibson, Miriam Gil , Jeremiah Kitch-Keesic, Malcolm McTaggart , Sean Newton, Brendan Rausenberg, Helen Spaxman, Jeremi Whitehead, Jerry Whitehead
Year: 2011
Location: McLean at Parker
Dimensions: H. 15 feet L. 480 feet
Best Viewed: On MacLean Drive between Williams & Parker
River of Crows Mural The theme of River of Crows is about flight, and reflects a common sight of the daily migration of crows. The overall concept animates the length of this wall in a sequence that portrays the flight of crows. This makes the wall into an active space, so that walkers, cyclists and drivers experience the phenomenon of flight. Using stencils to make the patterns of crows, images are repeated in several 'sequences' of flight patterns, each similar to the other. The background and surrounding areas are painted reflecting the transition from day into night across the length of the surface. This project has been made possible through the generous support of: Britannia Secondary School, Vancouver School Board, Britannia Community Services Centre Society, Vancouver Foundation- Neighbourhood Small Grant Program, General Paint, the City of Vancouver – Great Beginnings Mural Program, Celebrate 125th Grants, and Community and Neighbourhood Arts Development Grant Program.